Amy (Bulthuis) Huckstep '09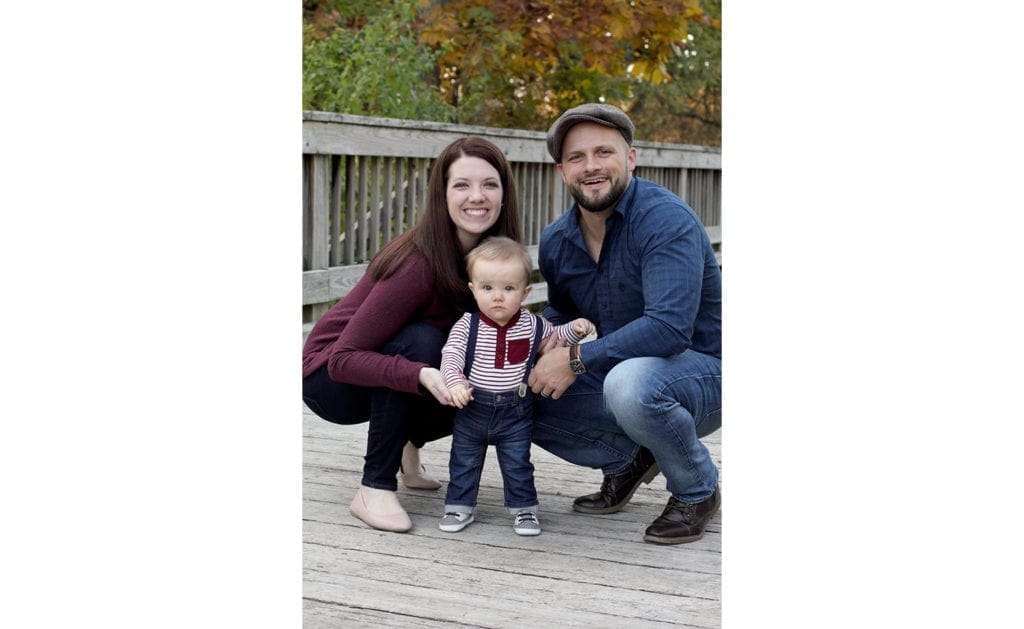 Photo: Amy (Bulthuis) Huckstep '09 & Dustin Huckstep '18
–By Christy Wolff '10
While Amy (Bulthuis) Huckstep '09 grew up with a clear picture of what college would look like for her, she didn't quite know which school she'd attend. Growing up near Trinity meant she was familiar with the campus, and after learning more about what Trinity had to offer, she knew she belonged there.
"I wanted to be somewhere small with a close environment of Christian educators and friends – all things I found at Trinity," Huckstep shared.
Knowing she would major in science and ultimately attend graduate school, Huckstep was immediately drawn to Trinity's state-of-the-art Heritage Science Center and the extracurricular activities offered, such as research opportunities (a helpful addition to her grad school applications) and being a part of smaller classes – allowing more involvement with professors.
One research opportunity involved studying rats with adult stem cells. Huckstep, two other students, and Professor of Biology Bob Boomsma '77, Ph.D., undertook this two-year project that involved regenerating stem cells from aortas with the hope that there would be re-growth. "The research environment was huge in my learning process," Huckstep said. "I do a lot of research in my job today, so it was helpful to have this foundation."
During her junior and senior years, Huckstep enrolled in a class that studied the merging of Christianity and ethics within the science world. "Sometimes those subjects are categorized by themselves, but to bring them together and reason through science and your Christian worldview was really impactful for me," Huckstep shared. "I might not have gotten that opportunity at a large university."
After graduating from Trinity, Huckstep went on to receive her Doctorate of Physical Therapy from the University of Illinois at Chicago. She found that Trinity prepared her well for further education, specifically by being challenged academically. "The professors at Trinity taught me to problem solve and learn the concepts to the right answers instead of just memorizing them," Huckstep said.
She recalled leaving her doctoral classes each day thinking about our Creator and having a bigger perspective on what she was learning, in large part because of how Trinity influenced her during her college years.
Huckstep now works as a physical therapist at Shirley Ryan AbilityLab and helps patients who have had a stroke or brain injury, or are living with diseases like Parkinson's or multiple sclerosis.
Two years ago, Huckstep and one of her colleagues worked with engineering students at Northwestern University in Evanston, Ill., to come up with improved ways of learning wheelchair skills. What came of this was the "Alligator Tail," a harness that can easily be fashioned to a wheelchair and is designed to stop the wheelchair from falling backward while learning new skills, such as a wheelie.
The team desired to help patients with spinal cord injuries that had resulted in paralysis of the core and legs. Huckstep explained, "Unfortunately, insurance rarely covers enough time in therapy to effectively learn [how to perform a wheelie]. And if we spend all therapy time learning this task, we aren't able to teach these patients how to do other tasks such as getting in and out of bed with paralysis, transferring from a bed to a wheelchair, sitting at the edge of the bed without assistance, etc."
She went on to say, "The device was created to allow patients to get a device at home to practice with family safely, to improve repetitions and confidence, and to keep therapists safe in teaching these patients how to perform the task."
As a result of her hard work, Huckstep's name is listed on the device's patent.
Today, there are five Alligator Tails being used for physical therapy needs at Shirley Ryan AbilityLab. Due to the COVID-19 pandemic, the final patent is still in process, which means they can't be distributed to other facilities yet. The hope is to start the marketing and distribution process as soon as it's safe to do so, with the goal of distributing these harnesses throughout the world.
Reflecting on her time at Trinity, Huckstep shared, "I love my job, I look forward to going to work each day, and I find motivation through my coworkers. God formed me and prepared me for what I'm doing today through my experiences at Trinity; this is all part of God's plan designed for me."