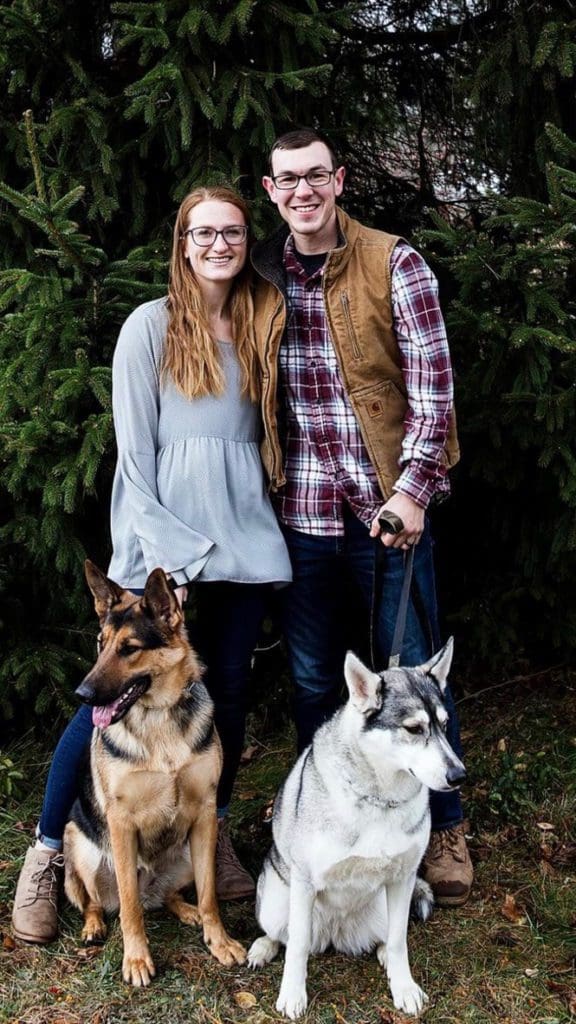 While many elementary school-aged kids are interested in riding bikes and playing outside, Anna (Spotts) Sall '17 had a different interest: the medical field. After learning that her childhood best friend had a liver transplant as a baby, Sall's curiosity grew, so she began going to her friend's medical appointments in Chicago, which continued through high school. Sall's dream to become a doctor was heavily influenced by this early experience — and Trinity helped make that dream a reality.
Sall desired to find a college that helped prepare her to be a doctor and supported her passion for running. During a campus visit, Sall met with Trinity's Head Men's and Women's Cross Country and Track and Fie Coach Bob Brickman and several athletes who made her feel welcomed. "The student-athletes I met felt like family and made me feel comfortable. I didn't necessarily feel that at other schools I visited. I knew Trinity would be a good place to grow in many different ways," Sall said.
With a dream to go into medicine someday, Sall majored in biology at Trinity – as well as English because of her love for the subject. "Both degrees benefitted the other by providing a unique perspective on all of my classes."
Sall also held the role of Resident Assistant (RA) during her junior and senior years. The Residence Life staff who oversaw the on-campus RAs helped build Sall into a leader among her peers. "They were a huge part of my spiritual development and finding who I was and how I could help the people around me."
Not only did Trinity thoroughly prepare Sall through classroom knowledge, but her experience as an RA also prepared her to show Christ's love to her patients. "Being an RA for two years helped me grow in how I relate to people and listen to them with empathy and care, which is a huge part of patient interaction."
"Dr. Carlson was my biggest motivator when I was a student; he taught me how to study, learn, and push myself. "
After graduating from Trinity, Sall took a gap year and spent her time researching bench procedures at Loyola University Chicago. She also had the unique opportunity of filling in for Professor of Biology and Chair of Sciences Clay Carlson as the adjunct professor of his microbiology lab during his sabbatical. "Dr. Carlson was my biggest motivator when I was a student; he taught me how to study, learn, and push myself. It was a fun challenge being on the teaching side of things and to work with Dr. Carlson in this capacity."
Sall noticed that her relationships with professors at Trinity were unique compared to her graduate school friends who went to larger schools. "Having those relationships with professors at Trinity and seeing how much they invested in us as students made the whole experience more meaningful and special," she said.
Sall recently graduated from Michigan State University's College of Osteopathic Medicine and plans to start her residency training this summer at McLaren Greater Lansing in Lansing, Mich.
As Sall continues to work toward becoming a doctor, she credits Trinity for keeping her grounded in her relationship with God. "My faith was strengthened at Trinity, which I needed throughout med school — especially during times of uncertainty. I wasn't sure if I would have a residency placement, so I depended on my faith a lot and came to it for comfort and guidance."
Through impactful mentors, encouraging peers, and insightful coursework, Sall felt supported by the Trinity community as she pursued her dream of becoming a doctor. "The community on campus really allowed me to grow into myself and become more comfortable with who I am as a friend, leader, and teacher. I experienced a lot of change throughout my four years at Trinity."