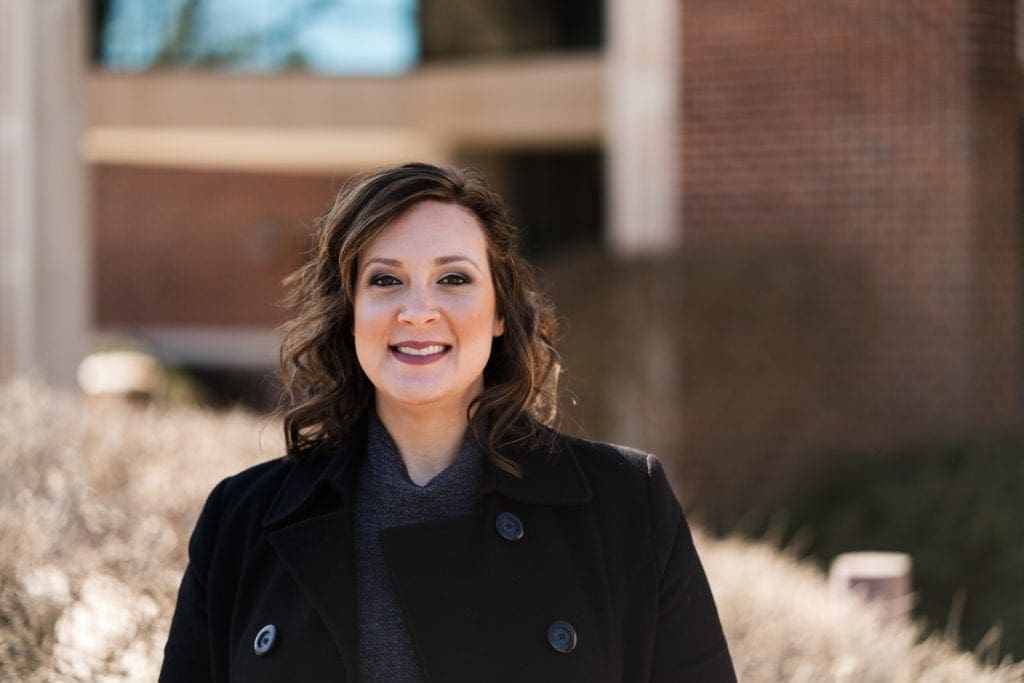 Before Ashley Fazekas MA '18 began attending Trinity to earn her master's degree in Counseling Psychology, she had worked for years in a completely different profession: as a medical dosimetrist in the field of radiation oncology.
Her decision to change careers and attend Trinity was several years in the making. But it has brought her to a fulfilling new path, as a Licensed Professional Counselor and now as an adjunct professor at Trinity, teaching a course on Theories of Personality for Trinity's Adult Program in Spring 2020.
"My different careers have both involved helping people, and my own background allows me to help people," Fazekas said. "My Trinity professors have been my role models. They have inspired me. I looked up to them."
Since graduating with her bachelor's degree in 1999, Fazekas carved a professional path in the healthcare sector where she devised treatment plans for patients with cancer.  But the healthcare industry has changed dramatically in recent years, and opportunities were becoming more limited for Fazekas as the number of cancer care centers expanded. "I value what I do, and I wanted to move up or move out. It was time to move out," she said. "In going to grad school, my goal was to diversify my career. I wanted to be in private practice and teach. I loved the idea of being a therapist and a professor."
She first began exploring graduate programs several years before she ultimately came to Trinity. She met Dr. Michael DeVries '74, who was then head of the graduate program. "He told me going to grad school was absolutely doable. I wanted to get my ducks in a row, including saving money. When I applied three years later, Dr. DeVries asked what took me so long," she said.
Trinity was the only college she considered for grad school. "I live a God-centered life, and I wanted a school that was similar." And every time she questioned her choice to make such a dramatic life move, God showed her a sign. "It might have been an ad for Trinity on a bus, or a Trinity bumper sticker on a car. But it was so easy once I got here."
During her time at Trinity, she loved her courses on research and multiculturalism. She also was accepted to every internship she applied for and had two job offers when she graduated.
Fazekas currently sees about 20-25 patients a week in her clinical practice at The Therapy Center in Orland Park, Ill. With her background in oncology, her patients include those with cancer, as well as their families. "I also have a passion for helping those struggling with addiction," she said.
Along with serving as an adjunct professor at Trinity, Fazekas recently began teaching at Moraine Valley Community College. While she was always interested in teaching, she appreciates the time she had to focus on developing a practice as a clinical psychologist after graduating in 2018. "It's been a lot of changes, but I'm just rolling with it," she said.
For those looking at grad school, she suggests carefully researching options. "And remember that life is never going to be perfect or ideal, so plan for how you can set yourself up for success–if you have the luxury to plan," she said. "And remember that short-term sacrifices are worth the long-term goals."