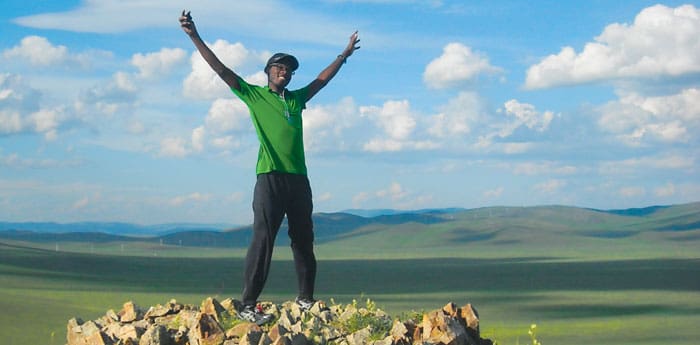 Peace Corps Teacher
Clifton Hurt '09 followed the voice deeply rooted in his heart as he left home to help others overseas. Now a Peace Corps volunteer, Hurt is using his time to serve others in Mongolia.
"One day it hit me," he said. "I am a young Christian with time and strength to serve. Why not serve people abroad?" His objective was to be a Christian—not by saying it, but by living it. Following months of prayer and conversations with friends from the Trinity community and his family, he joined the Corps.
While at Trinity, Hurt earned his bachelor's degree in music education, K-12 choral emphasis, and was involved in numerous extracurricular activities, including the Campus Ministry Leadership Team, Outcry, Gospel Choir, Organization of African American Unity, and Brother 2 Brother.
Following graduation, Hurt arrived in Mongolia in early June 2010 for training and in August was officially sworn in as a volunteer serving for the next two years. He currently resides in Muren, Mongolia, where he is a primary teacher at Ereedwee, also known as Future 21 School. Because of his educational background, Hurt is able to teach in a classroom setting as well as train fellow teachers. He is one of nine foreign language teachers serving in the area and works with grades 4-11.
Hurt's work extends far beyond his teaching as he engages with the community around him. Along with his fellow volunteers, he hosts the "English Corner" for local adults and interested students and offers private music lessons to a few of the local community members.