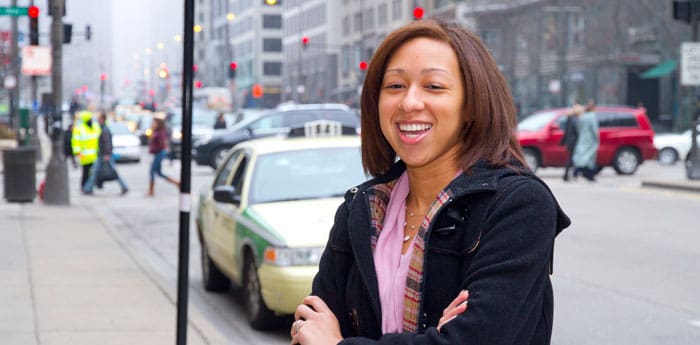 Administrative assistant and assistant to the program director
Every morning, Crystal Williams '11 walks along one of the Great Avenues of the World, passing lovely streetscapes, fine dining restaurants, high-end retail stores, and luxury hotels to reach her office at The Greater North Michigan Avenue Association (GNMAA), which represents more than 700 businesses interested in promoting Chicago's Magnificent Mile as a world-class destination.
Williams, an administrative assistant and assistant to the program director, first began working with GNMAA during her Chicago Semester internship in the spring of 2011, her last semester as a Trinity business major. As a student, Williams was a recipient of the Academic Excellence, Diversity Leadership, and Dining Hall scholarships. She was a First Year Forum mentor and a student manager in the cafeteria for three years. That experience taught her management skills and led to an interest in event planning.
Williams was thrilled to secure an internship with the Association as an event planning coordinator, developing promotional pieces for events, attending community meetings, and creating surveys to gather feedback from Association members.
When her Chicago Semester ended, Williams' work at the GNMAA did not. She was asked to stay through the summer and was later offered her current position.
"What I love most about my job is meeting with my committees, sitting around the table in our conference room, taking a blank canvas, and creating successful events," said Williams. Some of her summer projects included planning and promotion for the Magnificent Red Carpet Boat Cruise and the ACCESS event (Admission to Chicago's Coolest Experiences on the Summer Scene).
"I always think back to my Chicago Semester and my internship," she said. "I am grateful and thankful to God that he blessed me with a spectacular job right out of college."