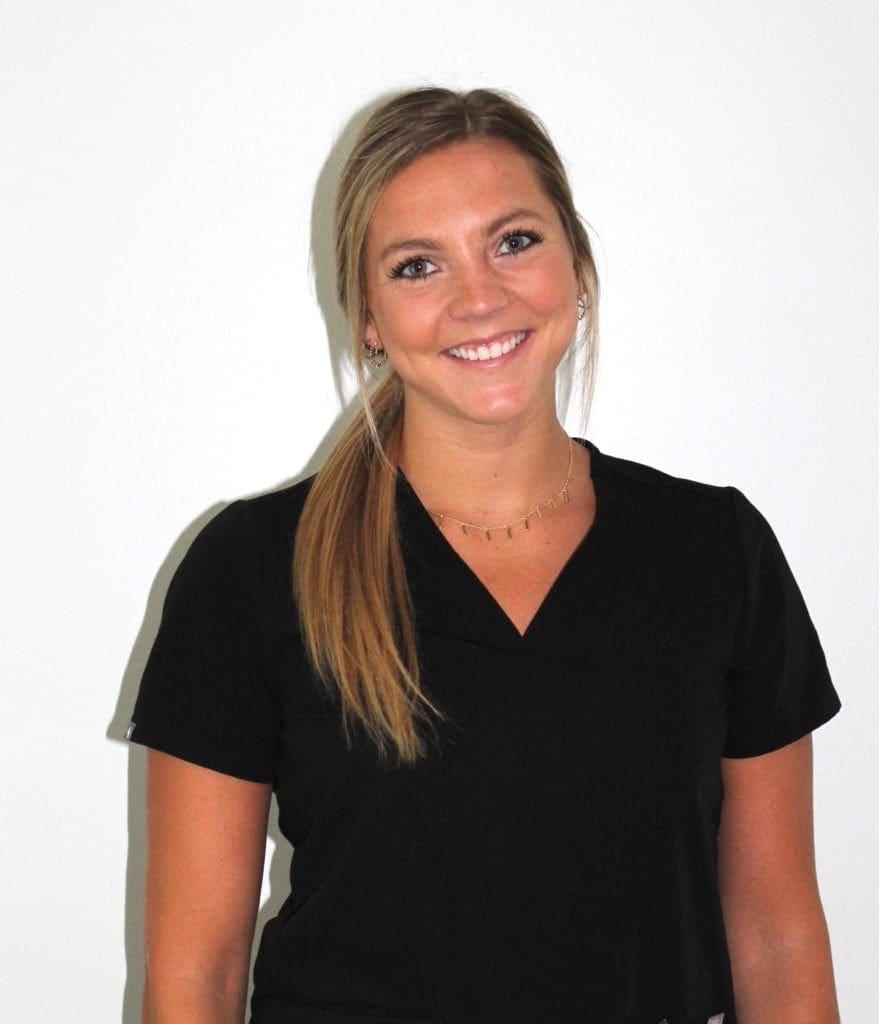 –By Christy Wolff '10
Danielle Oeverman '18 is part of the second graduating class from Trinity's speech-language pathology (SLP) program. Desiring to earn her degree and play volleyball at a small NAIA school, Trinity fit the bill for Oeverman. "My parents taught me that I need to work for what I want and not be afraid to go and get it," Oeverman said. So, after graduating from South Christian High School in Grand Rapids, Mich., she moved to Illinois, embarking on a new adventure at Trinity.
Having gone through years of speech therapy herself, Oeverman's interest in making this a career started from a young age. "I knew how big of an impact an SLP can have in one's life." More recently her nephew underwent speech therapy, which led Oeverman to shadow in the field–solidifying her dream to make this a career.
Trinity's SLP program is "small but mighty," according to Oeverman. Alongside a class of seven, Oeverman felt comfortable bouncing ideas off her classmates and studying with them. "To still be in contact with your classmates says something about the Trinity atmosphere," Oeverman shared.
Since grad school is a requirement in order to be a licensed SLP, Oeverman valued how Trinity equipped her for that next step. "Being such a small program, we were able to truly connect with our professors and ask questions to prepare us for grad school." Oeverman gained perspective on grad school during visits from Trinity's SLP graduates who would share about their grad school experience, what they learned, and what they wished they knew.
Trinity's SLP class topics include child development, communication disorders, anatomy, and motor speech disorders, to name a few. "Trinity's program covers all the courses you need for grad school," she said. "It's one thing learning the knowledge behind the topics; it's another to learn how to provide therapy. Trinity did both," she said.
Several Trinity experiences aided in her grad school application–and eventual acceptance– including internships at a school and nursing home, and hands-on assessments in class. She attended Midwestern University in Downers Grove, Ill., and virtually graduated in May 2020, due to COVID-19.
"Trinity taught me when it's important to step up and stand up for what I believe in, especially when it comes to advocating for myself and my patients," she said.
Trinity also provided Oeverman with the gift of forming lasting friendships. "Four years is such a short time to develop lifelong friendships, but Trinity gave me that sense of family." Having such impactful friends helped her grow in her faith. "I really learned what I believe and why I believe that."
She also made a huge impact on the volleyball court during her years at Trinity. She was a member of Trolls teams that claimed NCCAA National Championship titles in 2014 and 2016 and advanced to the NAIA National Championship in 2015 and 2017. Amongst her many accolades, she was a four-time All-Conference selection and was the CCAC Freshman of the Year in her rookie season. She earned AVCA/NAIA All-Region honors twice and NCCAA North Central All-Regional honors three times. The NCCAA  also named her the 2017 Susan R. Hellings Award Recipient for Division I Women's Volleyball, given annually to a player who exemplifies Christian leadership on the court..
Her advice to prospective students considering SLP? "Don't be afraid of the small class size or that Trinity doesn't have a grad program," she said. "None of those things have stopped me from graduating and applying for jobs currently."
Oeverman looks forward to embarking on her next adventure and using the tools Trinity gave her to be a positive influence in her career.