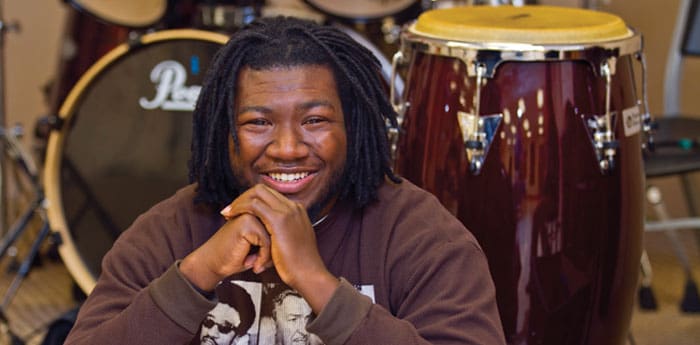 Youth director and pastor
Harold Boyd '10 grew up in the Roseland community on the south side of Chicago and began attending Roseland Christian Reformed Church around the age of 10. As a child, he enjoyed the fellowship he found at Roseland Christian Ministries (RCM) and remembers the year Joe Huizenga '01, pastor of Roseland CRC, was an intern from Trinity.
Today Boyd, who also served as an intern as a Trinity student, works with Huizenga at RCM to bring the message of salvation to the community, as well as support services such as interim housing for homeless mothers and their children. Boyd recently began a newly created position as youth director and pastor, roles he fills with several years of experience of working with children and a heart for being a missionary to his community.
After graduating from Trinity with a bachelor's degree in theology, Boyd ventured to the inner city of Atlanta, Georgia, where he served with Mission Year, a year-long urban ministry program focused on Christian service and discipleship. One of six team members, Boyd lived in a trailer park in Atlanta's East Point neighborhood, becoming part of the Hispanic community he served. As part of that community, he and his team worked through a local church to tutor and mentor children.
Soon after he began his work, Boyd was featured by CNN in a story about Mission Year and the low numbers of African Americans in the mission field. "We can be missionaries to our communities, and once we live a mission life there, then we can go out to other places," he said.
Although Boyd's time in Atlanta ended in July, he continues to work as a Mission Year alumni mentor with team members serving in Roseland for the next year.
At RCM, two of the youth offerings Boyd oversees include Transforming Minds, an after-school program, and Daughters of Zion, a program that helps girls develop their self esteem and reinforces moral messages. He hopes to develop a similar program for boys called Men of Honor but emphasized the great need for more long-term volunteers to serve the children.