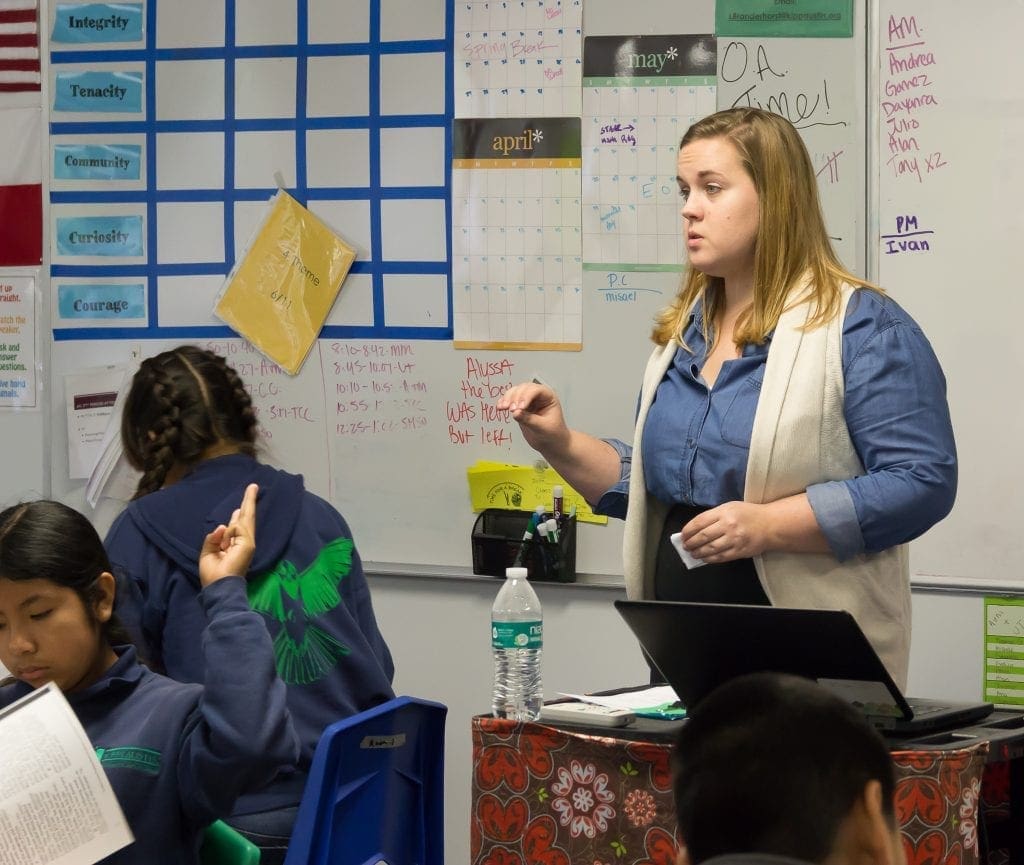 –By Christy Wolff '10
Leah Branderhorst '11, originally from Holland, Mich., found herself following in her sister's footsteps and applying to Trinity — ultimately leading her to find the career God had planned for her all along.
Navigating through her first year at Trinity with an undeclared major, Leah attended classes in several different programs, including education. During her sophomore year, she made the decision to declare her major: secondary education with an emphasis on English education. Being a part of a smaller group of English education majors gave Leah the opportunity to bond with the students and professors. "Through getting to work with a smaller class size, we got more hands-on practice."
By her second year of the program, Leah found herself gaining practical experience. "One of the things that Trinity does differently than other schools is puts you in a classroom during your sophomore year already. This led me to graduate and feel confident because I had more experience," Leah recalls.
Midway through the program, Leah was assigned student teaching roles in the Chicago suburbs and southern California. "During student teaching, Trinity helped me think through where I wanted to live and all of the details that surround that." After graduation, Leah taught in Colorado for two years before stumbling upon the KIPP national charter network. Not knowing much about charter schools, Leah did her research and soon realized her desire to be a part of it. She moved to Austin, Texas and taught for four years at KIPP Austin Academy of Arts & Letters before participating in a leadership fellow training program that led her to become the assistant principal in the fall of 2018.
In addition to her education courses at Trinity, Leah took several psychology classes. "The psychology classes I took helped me ground myself in the work I'm doing with students." Many of the students her district serves come from backgrounds of trauma, and Leah felt more prepared to navigate through those relationships and conversations.
Reflecting on those who influenced her along the way, she specifically recalls the impact Dr. Bill Boerman-Cornell had on her. "The feedback he would give me on my lesson plans was always really purposeful and meaningful — feedback I could take and apply to the next lesson plan I wrote. He cared about us as humans, students, and future educators. I felt incredibly valued in his classes and always felt respected as an educator."
In addition to focusing on her schoolwork, Leah was heavily involved with the theatre department at Trinity. She received a scholarship to create the costumes for performances. Leah also worked in the Writing Center, helping students improve their papers, as well as the Admissions Office, leading tours for prospective students, connecting with applicants, and arranging places for visiting students to stay overnight.
Each of these experiences guided Leah to her current placement. "On the most challenging days, I remember these kids are gifts from God, and that opens your eyes and reminds you that you're not just here to teach these kids, but to make a lasting impact on them. This is my job, my calling."