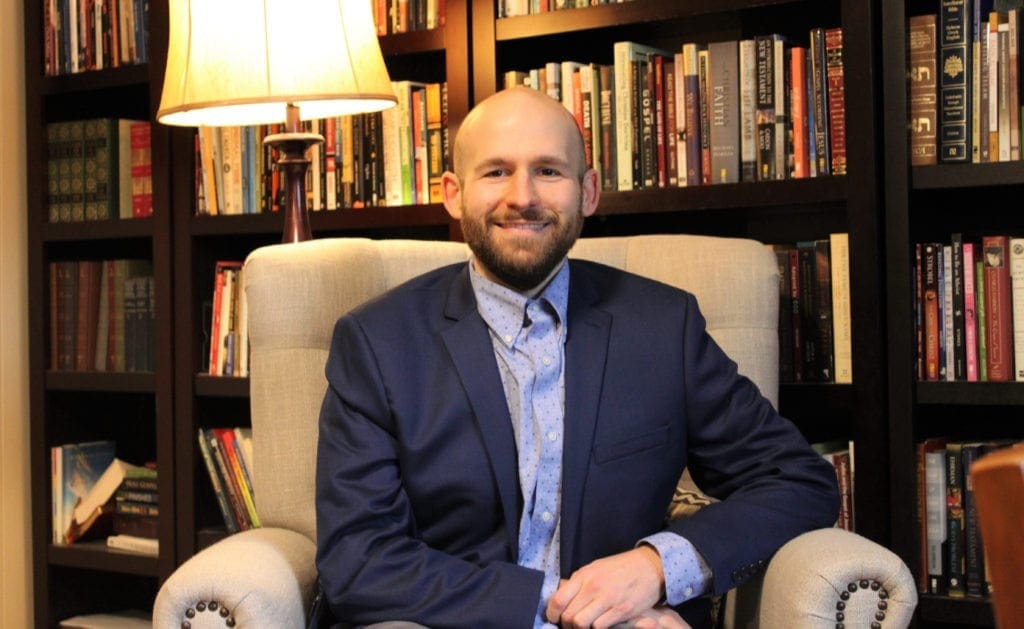 Matthew Nolan '18 didn't pursue a college degree immediately after graduating from high school. Instead, he worked for more than 10 years before coming to Trinity and earning a double major in computer science and mathematics. And while he was nervous about embarking on a college education at 30, he found a home at Trinity and now has a career he loves as a data analyst at Exelon Corp.
"All the professors are outstanding and went above and beyond to invest into their students," said Nolan. "The math and computer science classes put me in a position to be successful in my current role."
After graduating from Vernon Hills High School in Vernon Hills, Ill., Nolan went to work at Menards. "It was during that time I became a Christian," he said. "After becoming a Christian, I realized that God has given me certain gifts and skills that I was not leveraging at Menards."
Nolan decided to pursue a bachelor's degree and began looking for a Christian college. "I applied to many Christian schools but the thing that made me come to Trinity was that I reached out to [former Professor of Mathematics] Dr. Dave Klanderman to discuss my concerns about going to college as a 30 year old. I met with him on campus one day and he spent hours answering all my questions and then some," said Nolan. "That made me realize that Trinity was the place for me."
Nolan was passionate about mathematics and focused on that degree initially. "But Dr. Klanderman and [Professor of Computer Science] Dr. Jeff Nyhoff encouraged me to take some computer science classes in my first semester to see if I enjoyed it. After taking a few classes, I not only enjoyed the computer science classes but saw how pairing that with a mathematics major worked really well for many different careers," he said. While pursuing a double major, he also earned a minor in business.
The summer before his senior year, Nolan interned with Exelon, America's leading energy provider and a Fortune 100 company based in Chicago. "After graduating in May of 2018, I was hired full-time by Exelon. Now, two and a half years later I am a senior data analyst."
Nolan loves being a data analyst. "My favorite part of my job is that it is a great balance between three things that I love; math, computer science, and people. I also love that I am not doing the same thing every day–the data, the people, and the problems are always different and therefore exciting to me," he said.
He was also excited to learn that Trinity is launching a Data Analytics program, beginning in Fall 2021. "I get to see the need for data analytics and the lack of knowledge, training, and skills that exists," he said. "I sit in a unique position in that I get to interact with every aspect of our business, and I can see how desperate the company is for data professionals,"
Nolan encourages all students at Trinity to familiarize themselves some aspect of data analytics. "The future is not a world of data. We are already in that world, and too many people are not prepared for it," he said. "Even if you don't want to be a data analyst, having experience, such as a minor in data analytics, will help you in any profession. I find it to be an extremely rewarding career. There are always new challenges because the data is never the same and the business problem is never the same; so being able to work on new, challenging projects is a lot of fun."
When he is not working, Nolan serves at his church, Judson Church in Joliet, Ill., and is on the board of directors of MorningStar Mission in Joliet. He is also currently pursuing a Master of Computer Science from the University of Illinois and is planning to start seminary in the fall. "My motivation for attending seminary is to just better equip myself to serve God," he said. "I want to be able to serve better at church, at home, at work, wherever. Now that my career is established, I feel like the timing is great for me to focus more on my biblical knowledge and I know could do that by reading books and many other ways. But I thrive under structure so I felt attending seminary would be best for me."
Looking back on his time at Trinity, Nolan points to the impact his professors had on his life, as well as his studies. "To have professors that I could talk to about anything, not just school, was comforting and made Trinity feel like a second home," he said.