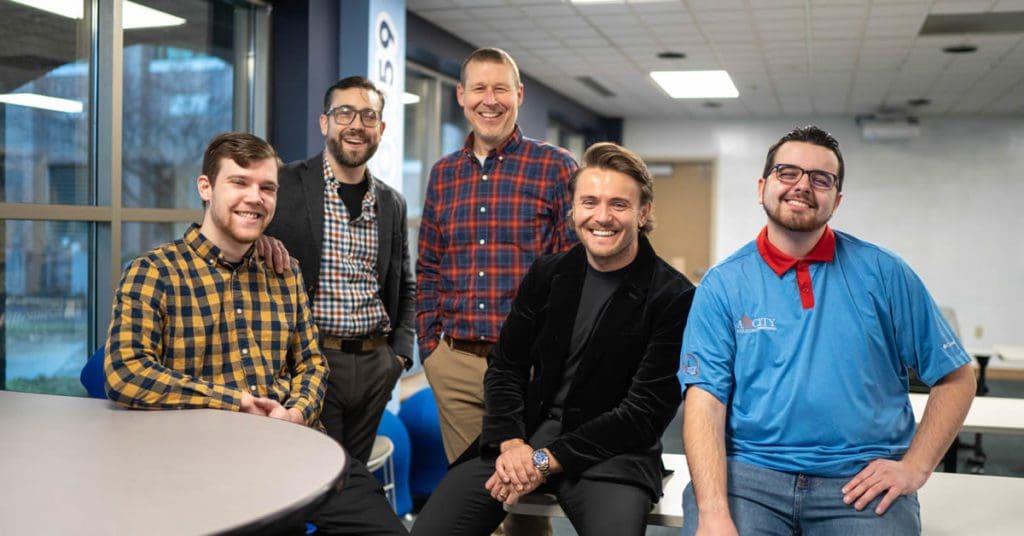 (L-R): Luke Snodgrass '24, Nicholas Bermudez '07, Jeremy Klyn '02, Andy Gurczak, Carter Sheehan '23
Trinity has always placed a significant emphasis on gaining professional work experience as a student
Trinity has always placed a significant emphasis on gaining professional work experience as a student. As a result, every graduate receives hands-on practice through an internship. Luke Snodgrass '24 and Carter Sheehan '23 not only gained valuable experience through a marketing internship this past summer, but they also had the unique opportunity of being mentored and managed by Trinity alum Nick Bermudez '06.
Bermudez is the CEO of M2E Chicago, LLC, a company that helps businesses make marketing easy. "I help small businesses explore a variety of options to strengthen their different marketing channels," Bermudez described. He started the company in 2010 and has experienced tremendous growth. From building compelling websites to working with print marketing to providing automation software, M2E covers it all.
"Trinity is still attracting the highest-quality students"
AllCity Adjusting (a public adjusting firm) is one of M2E's national brand-building clients and sought out Bermudez's expertise on a large project – where Snodgrass and Sheehan stepped in. Through their internship, they performed in-depth research to help create an educational portal for training future adjusters. Bermudez described it this way, "Every state has different guidelines, so they compiled a 50-state spreadsheet that compared study guides against state guidelines to create a standard study guide for future adjusters. As a result, agents will be able to generate a study guide for their state almost instantaneously. It will be entirely automated."
This undertaking wouldn't have been possible without Snodgrass and Sheehan. AllCity's team faced the challenge of not having the time to perform the research themselves, so they requested help from M2E and, in turn, interns from Trinity. Owner Andy Gurczak shared, "[Snodgrass and Sheehan] were amazing, hardworking, and ethically well-mannered. They understood the vision and committed to it."
Gurczak and Bermudez oversaw the project and were impressed with what these interns brought to the table. "Carter and Luke showed me that Trinity is still attracting the highest-quality students," Bermudez shared. "They are both men of integrity; they have already achieved a level of humility, composure, focus, and respect that many people in their thirties, forties, or even fifties haven't achieved."
Many of those skills have taken shape during their time at Trinity. When asked how his coursework prepared him to be an effective intern, Snodgrass shared, "Professors who took the time to invest in students' overall skills played a big factor. In addition, my classmates, and their perspectives also better prepared me for this role. Because of their skills and interests during group work, I was more prepared to contribute in a meaningful manner professionally."
Sheehan reflected, "It was great to work with people that genuinely care about my growth as a professional and a human. I was super grateful to be able to help this company with their noble cause, but I was also happy to gain a couple of mentors in the process."
The growth that takes place during an internship is what makes the hands-on experience so valuable. Bermudez invested in these students and challenged them to build upon what they'd already learned in the classroom.
Jeremy Klyn '02, Director of Alumni and Family Engagement at Trinity, shared, "This connection has been an incredible reminder to me of just how amazing our students are. I think our alumni office and those familiar with this place can become so used to the high level of quality and excellence we see every day that we can take it for granted. This experience is yet another reminder of just how much our students (and alumni) shine in the work they do every day, largely because it is an extension of their faith and calling in this world."