Peter '82 and Yvette '85 Madany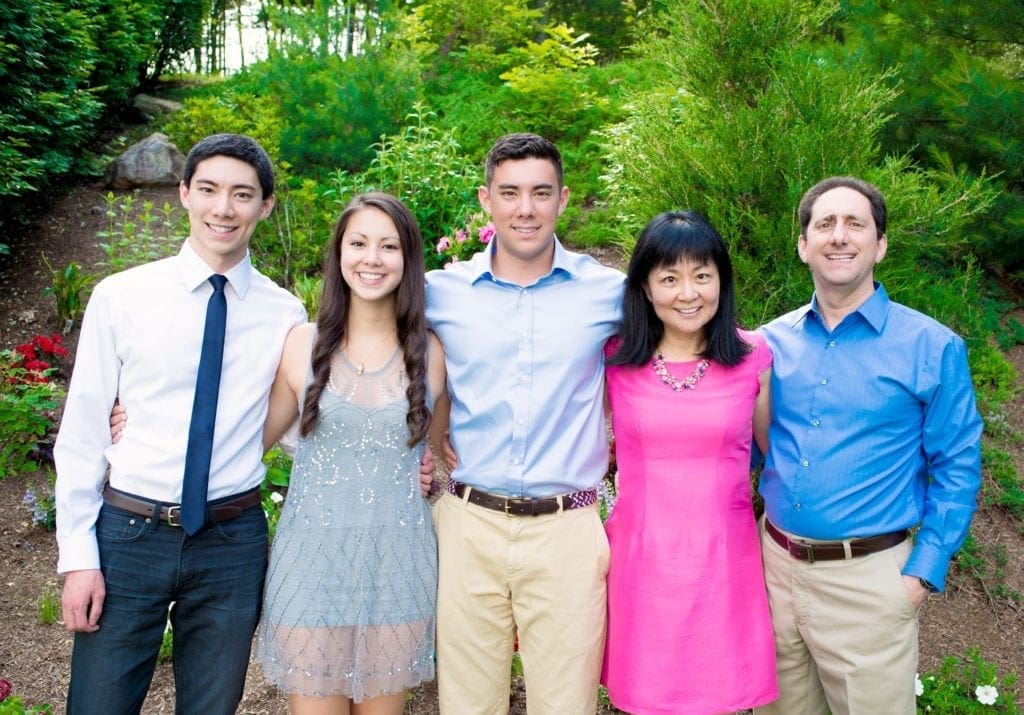 –By Christy Wolff '10
Peter '82 and Yvette '85 Madany grew up on opposite sides of the world from each other – Peter in South Holland, Ill. and Yvette in Shanghai, China. They met at Trinity, fell in love, and recently celebrated their 36th wedding anniversary. Currently living in Massachusetts, Trinity remains in their hearts as they give back and stay connected by supporting students pursuing their own education.
Growing up, Peter was always familiar with Trinity's campus since his dad worked as the first foreign language broadcast minister at Back to God Ministries International, formerly located near the entrance of Trinity's campus. "I remember my dad bringing me to work with him and visiting the campus," Peter shared.
Yvette grew up during the height of the cultural revolution in China. "One of my first memories was seeing the Chinese Red Guards (a student-led paramilitary social movement) hitting my grandmother in an attempt to reveal where she hid her valuables," Yvette recalled. Her parents wanted to send Yvette to the United States, so when she reached high school-age, Yvette was sponsored by relatives in Illinois and attended Chicago Christian High School in Palos Heights, Ill. Being the only foreign student in the entire school had its challenges, but Yvette was determined to succeed.
The couple who sponsored Yvette was instrumental in helping her grow in a relationship with God. "We attended Orland Park CRC where I learned a lot about being a Christian," Yvette said.
Fast forward to their college years. Peter earned a degree in math/computer science and chemistry. During the second semester of his freshman year, Peter got a job at a research institute in Chicago through an adjunct professor who taught at Trinity and ran a department at the research institute. Peter held onto this job throughout his schooling and continued well after he graduated.
Pursuing an English degree, Yvette lived in the dorms year-round, including summer vacations where she worked in the library and cleaned the dorms after students went home for the summer. "I had to learn the hard way once I arrived in America, and this experience gave me more empathy – more of a humble spirit," Yvette shared.
Since graduating, both Peter and Yvette have gone on to higher studies: Peter earned his Ph.D. in computer science and Yvette received her master's degree in East Asian studies.
A job opportunity for Peter brought their family, (including their three children, to Shanghai, Yvette's hometown. Their children attended an international school with over 50 countries represented. "This was a time for our kids to grow in friendship with people from all over the world; to experience Chinese culture on a deeper level," Yvette said.
During this time, Yvette desired to do something meaningful. So she started a walking tour program that gave foreigners a glimpse into the non-tourist attractions in Shanghai, emphasizing the city's role in the country's historic and cultural developments. The income she earned went straight to the Shanghai Charity Foundation's Loving Heart Lunch Program that helped feed children in need. But she didn't stop there: Yvette wrote and published a book titled Shanghai Story Walks that highlighted her walking adventures. The proceeds from her book were used to start an after-school art class for migrant students in her parents' name. Today, the program is still thriving.
Earning a degree from Trinity meant Yvette had the proper English tools to write a book, a tool she didn't know would be so advantageous at the time. Yvette also appreciated being a part of a small school and having access to the professors.
Peter shares the same sentiments. "To have a job lined up in my field by age 18 through connections at Trinity was a great way to start in my career," Peter said. Balancing his coursework and working at the research institute taught Peter in more ways than one. "I was used to learning and doing at the same time."
Recently retired as a vice president from Hewlett Packard Enterprise, Peter reflected on his computer networking career and the success he experienced. For example, he led a team that built the first software platform for third party apps to run on a mobile phone in 1999.
As a way to give back to Trinity, Peter and Yvette have established three scholarships: one for foreign students in honor of Peter's father, who, himself, was a foreign student when he went to seminary; one that encourages students to get involved with community service, due to Yvette's interest in philanthropy and community service; and one focused on the fields of science, technology, engineering, and math to highlight Peter's interest and career in science and technology. Since the inception of these scholarships, Peter and Yvette have helped more than 35 students pursue their college education at Trinity.
They have also sponsored OPUS, Trinity's annual celebration of Christian scholarship, for several years. "The idea [of sponsoring OPUS] immediately appealed to us," Yvette said. "A day of interdisciplinary exchanges seemed like a great way for students and faculty to share and learn from one another."
Both Peter and Yvette remember their financial needs during their college years. Now they are able to help students who are in similar positions through their resources. "While we support many other worthy causes, Trinity is dear on a personal level," Yvette shared.
Peter added, "Trinity is special to us because we met there, it gave us a good liberal arts education, and it anchored us with a Christian worldview. We are grateful for our own education and have seen God bless us, so we enjoy giving back."
Trinity provided unique experiences and takeaways for both Peter and Yvette, and it's evident that both are still impacted by their time at Trinity all these years later.