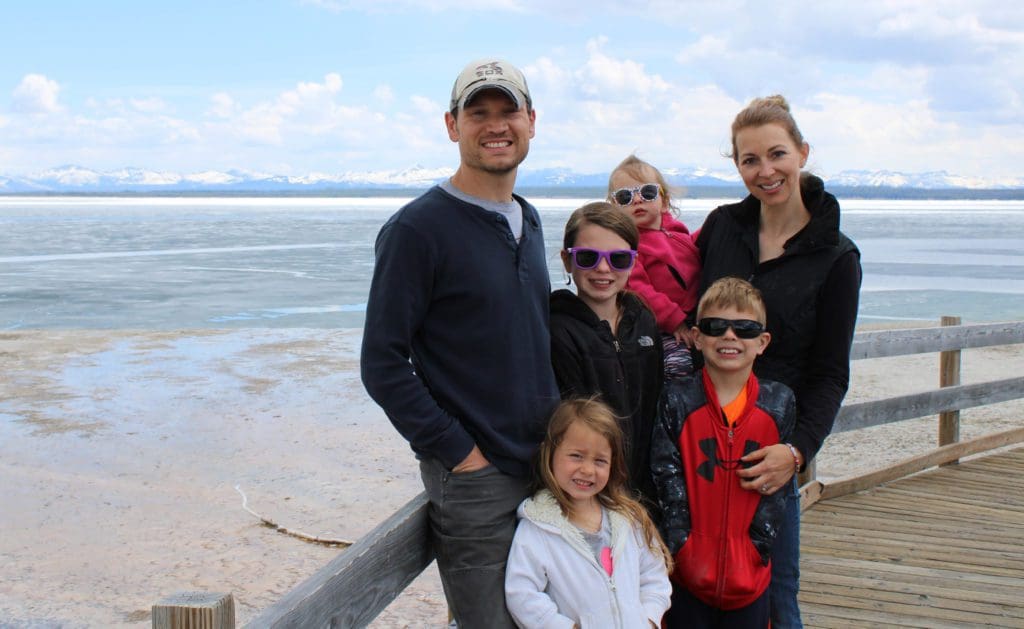 –By Christy Wolff '10
Stephen Henderson '08 is clearly demonstrating what it means to be the hands and feet of Jesus. After his youngest child received an incurable medical diagnosis, Henderson began the important work of involving himself in the redemptive process of healing this broken world. He credits Trinity for preparing him for this journey: "Trinity begins equipping us with the knowledge and skills to serve in our spheres; we have to figure out how we're going to use that to serve in God's Kingdom." 
Originally from Pella, Iowa, Henderson and his wife Lacey '08 graduated from Trinity; he majored in history with minors in education and special education, and she earned a nursing degree. Both immediately started grad school – with a baby on the way! "I have pictures of me and Lacey doing homework for grad school with our newborn daughter on our lap," Henderson recalls. Over the next several years, they would welcome three more children – with one more due October 2021. 
In 2018, Henderson was nearing the finish line of obtaining his doctorate degree. He had completed the coursework, written his dissertation, and was scheduled to defend it before October when his fourth child was due. Everything worked according to plan, and the Hendersons welcomed Estella in October 2018. 
Two months later, he was preparing to walk across the stage at his doctoral graduation. "For years, I longed to acquire the earthly title of being a doctor; I wanted the recognition," he described. But as his new title was announced – Dr. Stephen Henderson – he heard the topic of the first chapter of Ecclesiastes repeat in his head: Everything is meaningless. "The Spirit was prompting me that something was coming in my life that I hadn't experienced that was going to make everything else seem meaningless." 
Six months after graduation, Estella was diagnosed with Alternating Hemiplegia of Childhood (AHC), an ultra-rare neurological disease that affects one in one million kids. "It's like having seven difference neurological diseases in one person," Henderson explained. AHC causes episodes of paralysis, uncontrollable muscle and eye movements, intellectual disabilities, difficulty walking, and behavioral disorders – among other challenges. 
"The early days of seeing these symptoms in Estella were filled with lots of emergency room visits, speeding down the highway wondering what was wrong with our daughter." 
When the family finally received a diagnosis, they were told there was no cure. As Henderson said: "It's like being told your own child has no hope for her future. We retracted into ourselves. We didn't socialize, we didn't take her into public, we didn't even share what life was like with others." 
Henderson realized that it's important to walk through the grieving process and wrestle with God. He spent the better part of one year pleading with God and shouting at Him, questioning why He would let this happen to his family – to his own child. 
"I came to the conclusion that the evil disease that my daughter has is not from God nor was it caused by God nor was it given to us by God; there is evil in the world and it exists because we live in a fallen, sinful, and broken world." He went on to say, "If we, as Christians, are called to be part of the redemptive process of renewing God's creation, then I'm called to redeem the world and rid it of this sinful disease." 
With that prompting, Henderson became involved with the Alternating Hemiplegia of Childhood Foundation (AHCF), an internationally known foundation that has funded millions of dollars in research, with the mission to end AHC. 
His own fatherly desire is much the same: to find a cure for Estella. "My quest to cure AHC, along with my colleagues at AHCF, is my way of reclaiming a broken part of God's creation." 
The painful symptoms Estella experiences can come on so quickly. "You just don't know when an episode is going to happen for her. You can see her body slowly start to shut down to where neither of her arms work, and within 20 minutes she could be completely paralyzed and could stay like that for days." These events are known as "episodes." They can last minutes, hours, or even days. "Just imagine your child writhe in pain, screaming uncontrollably while you watch helplessly. That is life with AHC." 
Being stripped of every aspect of feeling in control, Henderson shared, "Maybe this is what God is talking about when He tells us to rely on daily bread – when you have nothing left that day and have the complete inability to control anything in your life." 
One thing that brings him joy in the midst of these life-altering challenges is watching how his three other children treat Estella. "They look at Estella and love her for who she is: their baby sister. That's an image of how God looks at us. He loves us for who we are and doesn't see our brokenness." Elena (10), William (8), and Adriana (4) clearly model Christ's love to Stephen and Lacey. And with their fifth child due any day, Henderson said, "God is giving us an opportunity to have a little more joy in our life where sometimes there exists much sadness." 
When Henderson reflects on his years at Trinity, he recalled how Dr. Pete Post (assistant professor of special education emeritus) made a lasting impact in his life. "Dr. Post continually pointed out that parents of special education children and children with special needs are very aware of what they cannot do, and our role as teachers is to emphasize to those parents and that child what they can do," That has been true of doctors, too, who repeatedly tell Estella what she cannot do. 
Henderson, now associate academic dean and the chair of the education division at William Penn University in Oskaloosa, Iowa, shares these insights with his own students. "My students get to know me personally and professionally like at Trinity. I knew early on in my career that I wanted to do for others what my professors did for me as a student." 
Before holding his position at William Penn, Henderson taught at Pella Christian Grade School. "When I was so new in education and would have behavior issues in my class, I would email my questions to Dr. Post and he would turn them into case studies; he would present them to his class and I would receive emails from his students with their ideas and findings," he recalled. 
Others at Trinity impacted his life as well.  "I owe a small part of who I am to the influencers in my life, particularly Dr. John Fry, Dr. Bob Rice, and Dr. Pete Post." These professors showed their care and support during particularly challenging times, such as when his own mother passed away during his sophomore year. "I wanted to drop out of school, but these life mentors stayed with me and became a major part of my life."  
To this day, Henderson remains in contact with Fry and several other professors at Trinity. 
The Henderson family's is one single story in a world full of brokenness, and he wants others to be mindful of the suffering that exists in the quiet margins of society. "We have the ability to be the hands and feet of Jesus to help those who are suffering. It doesn't have to be AHC; we are called to help in the redemptive process of hearing these people and responding." 
With that calling, he continues to keep his feet firmly planted in his relationship with God. "My daily prayer includes two points: Asking God to please give Estella a good day, and if He doesn't, then I ask Him to please give me the feet to walk the path that's laid before me." Henderson is filled with hope for what the AHCF is doing as they partner with some of the best scientists in the world. "My daughter might not be made whole on this side of Heaven, but I have hope that one day she'll get to run and play because of what Jesus has done." 
To support Estella
If you feel led to donate to Estella's cause, please visit her page: https://ahckids.app.neoncrm.com/estella