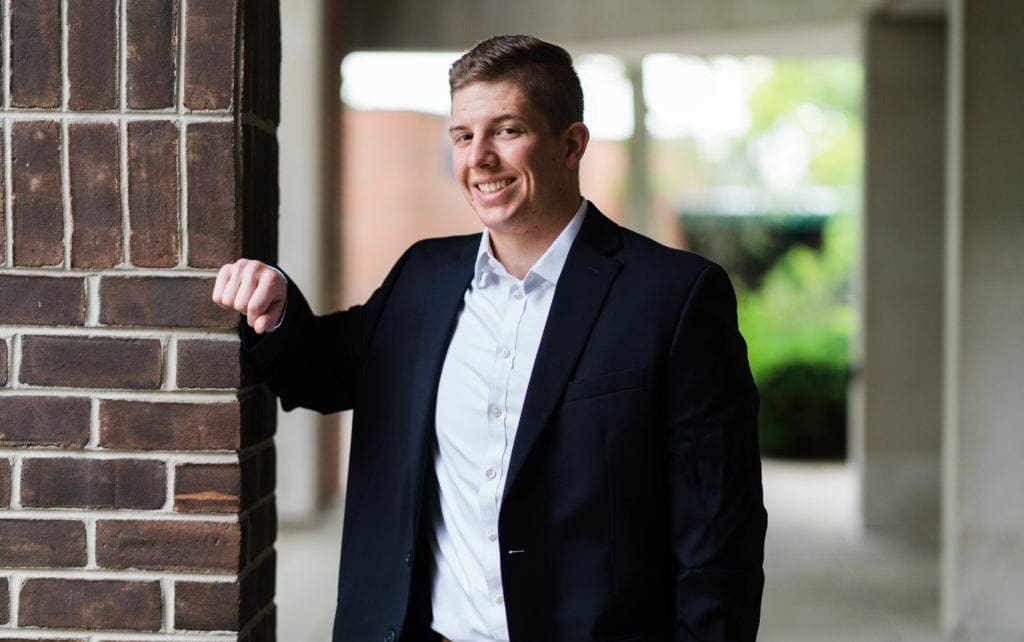 When Taylor Boice '15 was recently named to Fortune magazine's "Five Star Wealth Managers under 40,"* he was surprised and honored. And he credits his time at Trinity for helping to pave the way for his professional career success.  
Boice, who is currently director of financial planning at Capital & Risk Management Services (C&RMS), knew he had been nominated. "But I really didn't think I would be selected. This is such a competitive field and I knew there were a lot of accomplished people who could be considered for the award," he said. "When I got the email and subsequent phone call confirming I was going to be recognized in Fortune, I really couldn't believe it. It became real when I got a copy of the February/March issue and found my name on the list." 
For Boice, who began working for C&RMS in downtown Chicago after graduating from Trinity, working with clients is one of the best parts of his job. "I'm very thankful to the people who helped me develop as a person and professionally and am especially thankful for the amazing clients I get to work with every day. I wouldn't have chosen this career or found myself in this position without the help and guidance of my family, friends, and mentors along the way." 
Those mentors include people he met at Trinity, where he double majored in communication arts and finance and played baseball. They helped prepare him for his career in two ways. "The first is all the field-specific knowledge that is a vital foundation for me as a financial planner," said Boice. "I use a lot of the technical skills I learned at Trinity as I work to give clients the best possible advice and help them develop a financial plan that is designed to help them achieve their goals. I am also constantly communicating with clients to ensure they understand the advice I am giving them. The skills I learned in my communications classes have been vital in communicating effectively with clients." 
Trinity also helped prepare him by developing his ability to think critically and solve problems. "My job is constantly changing, and I am constantly meeting new clients with unique problems," said Boice. "I need to think critically and creatively to provide solutions for the people I am working with." 
A native of Hudsonville, Mich., Boice said a number of factors attracted him to Trinity. He fell in love with the campus after visiting several times. He also wanted to play baseball during college and was excited to receive an athletic scholarship. Boice also liked the campus's proximity to Chicago. "I really felt comfortable here and saw a lot of value in having small class sizes and having all the curriculum taught from a Christian perspective," he said.  
His favorite memories include living in the dorms, as well as later moving off campus with people who are still some of his closest friends. Boice also said the professors in the business and communication arts department had a strong impact. "What has stuck with me most is the life experiences they shared with us as students," he said. Boice also has great memories playing on the baseball team. "Coach [Justin] Huisman always focused on doing things the right way, which led to a lot of victories on the field and has really helped me in my life to this day." 
He also married a Trinity alumna, Janna (Ottenhoff) Boice '14. They now make their home in Northwest Indiana with their 3-year-old daughter, Quinn, and 9-month old son, Ryne. He loves to spend time with his family, particularly enjoying outdoor activities when the weather is good.  
He also likes to watch baseball and basketball. "I also enjoy playing golf and enjoy participating in the golf outings for Trinity and other local Christian schools throughout the summer," he said. Boice is also looking forward to returning to campus, as more in-person events are planned. "I'm hopeful I can continue being connected with the Trinity community and help students as they are growing and shaping their future. We are best when we work together and combine our strengths. This is something I witnessed clearly through the Trinity community, both as student and as a graduate today," he said. 
Boice said he is thankful to everyone from Trinity who helped shape his experience and helped him get to where he is today. "I still talk to a lot of former professors and students and even have the privilege of working with many of them as clients. Trinity is a special place with a lot of special people," he said. 
Taylor G. Boice is a registered representative of and offers securities, investment advisory and financial planning services through MML Investors Services, LLC. Member SIPC. (www.SIPC.org). Capital & Risk Management Services is not a subsidiary of affiliate of MML Investors Services, LLC. or its affiliated companies. Supervisory Office: 300 S Wacker Dr., Suite 2000, Chicago, IL 60606  Phone: 312-347-1660 . CA Insurance License #0M15879
* The FIVE STAR Wealth Manager Award is granted by Five Star Professional, an independent marketing firm. This award is not indicative of future performance and is based on nominations by industry professionals in a given market area and objective criteria including favorable regulatory and complaint history, reviews conducted by the firm, retention rates, and client assets.