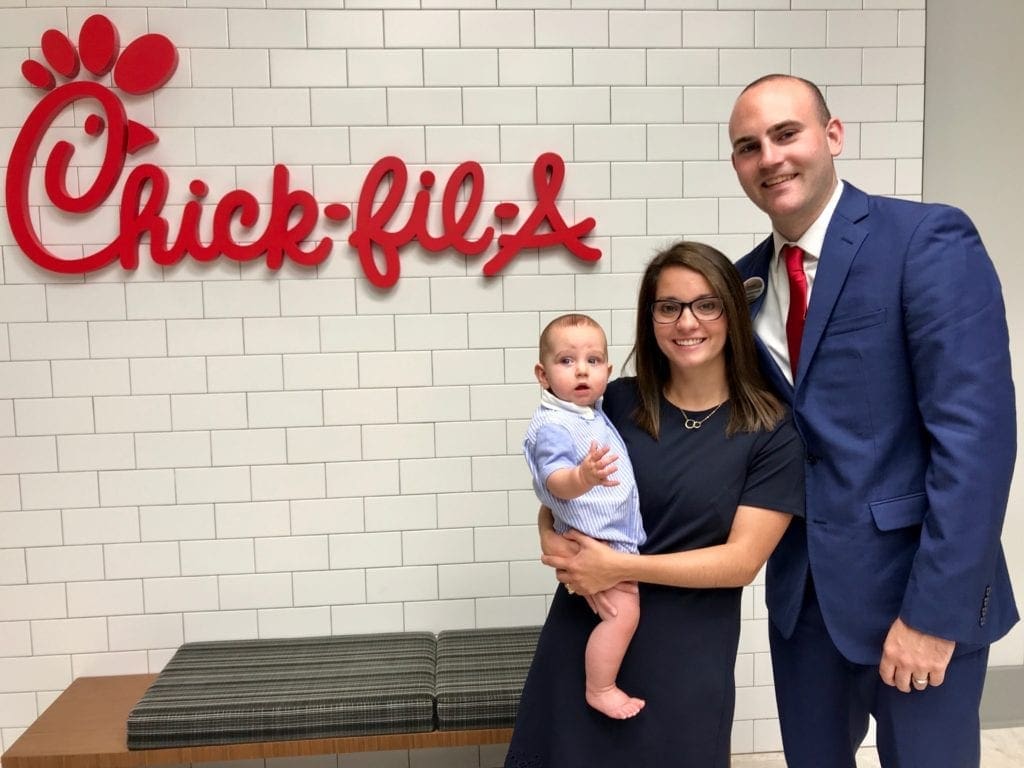 –By Christy Wolff '10
As the owner/operator of a Chick-fil-A franchise, Tyler DeKoekkoek '14 begins each day by reminding his team, "It doesn't matter what you believe in. What's important is how you add value to peoples' lives around you." And that's exactly what Tyler does: He uses his leadership role to positively influence the people he works with and adds value to the restaurant — all tools he acquired during his time at Trinity.
Born in Michigan, Tyler grew up loving the game of basketball. When he was offered a basketball scholarship from Trinity, he enrolled. Entering his freshman year, Tyler decided to take an assortment of classes to determine what interested him the most. Challenged and intrigued by psychology, he quickly declared his major, with a minor in theology as a way to grow in his faith.
Both Dr. Michael DeVries and Dr. Derrick Hassert from the Psychology Department positively influenced him. "Both professors had experience in the field, so they had practical stories students could relate to, as opposed to just reading textbooks," Tyler shares.
After graduation, Tyler coached the men's basketball team for a semester before stepping back and allowing God to guide him in his career. This led Tyler to a job in the Virgin Islands, where he worked with A Christian Ministry in the National Parks — a student-led ministry that sends roughly 200 ministry team members into 75 locations in 25 national parks around the country.
Tyler distinctly remembers God telling him, "I can use you, Tyler. Be open to anything I have in store for you."
After returning home and getting married, Tyler's in-laws introduced him to a friend who was the owner/operator of a Chick-fil-A franchise. "I met with him hoping to receive career advice and walked away with a job overseeing the catering operations," Tyler says.
During the years that followed, Tyler stepped into an operations role before being selected as the owner/operator at the location he still runs today, located near the Illinois/Iowa border.
"Oftentimes in the world of business, leaders get caught up in the data, analytics, and sales," he says. "But I think what's lost is connecting with the people you're working with." And that's where Tyler's psychology degree comes into play.
Managing 25 employees with 25 different personalities isn't a one-size-fits-all situation. Tyler strives to build relationships and figure out how best to lead each employee. "I use my degree every day to figure out how to build a team from varying backgrounds," Tyler shares.
Looking back on how God led him to where he is today, Tyler shares, "I'm so thankful that God helped me be open to what He had in store for me."