Jeff Weidennaar '96 and Noah Pavlovics '22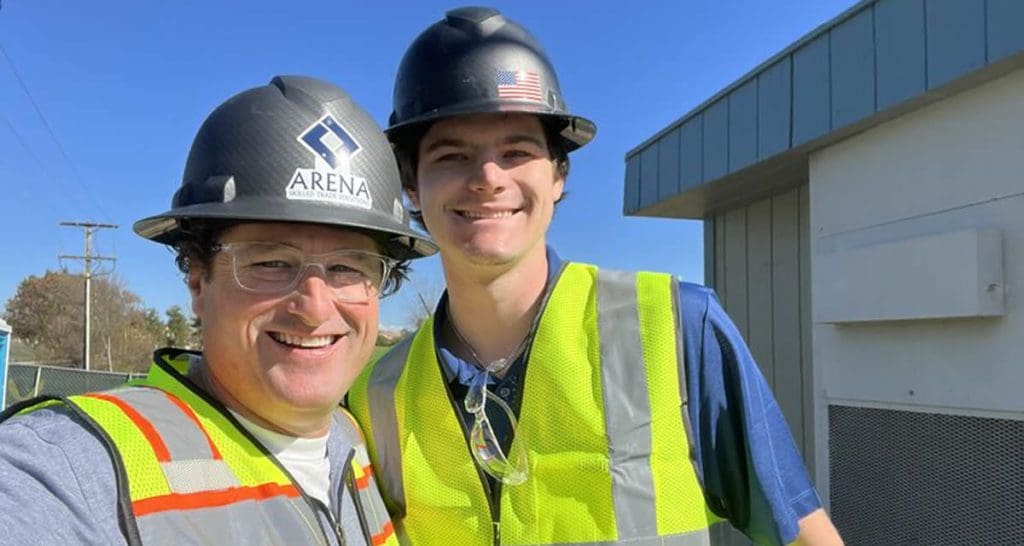 Noah Pavlovics (pictured right) out in the field during his first week on the job
It's more about who you know that cares enough to help you succeed
Story summary: Business fellows mentoring with alumni provided customized and relational time with the student that helped grow the students network and ultimately was a catalyst for him landing a job in California soon after graduating in December.
Many folks have heard the phrase "It's not what you know, it's who you know." But in many ways, it's more about who you know that cares enough to help you succeed. And for Trinity students, their interactions with alumni regularly result in discovering just how much they care about their success.
In 2021 Trinity's business department launched their new Business Fellows program for some of the top students in the program to experience an enhance level of career support and advice by paring them with an alumni mentor. This past fall, Noah Pavlovics '22 learned first-hand just how valuable Trinity's alumni network can be.
During the summer of 2022, Noah received an invitation to join the Fellows program from department chair, Sundeep Vira. After applying and being accepted to the program, professor Vira partnered with the Alumni office to find a good pairing and connected him to Jeff Wiedenaar '96. As a graduate of the business program himself, Jeff was excited to a very relational way that he could give back to his alma mater.
"I had let Trinity know about a year ago that I'd love to come alongside students and help give back in this way," Weidenaar said. "Trinity was there for me when I was a student, and it was a way I wanted to give back and express my gratitude."
Shortly after being paired up, Noah and Jeff met up at Trinity's Bootsma Bookstore/Cafe to meet face to face and discuss some goals for their time together. Learning that Noah planned to graduate in December, they set out an accelerated timeline to help Noah to think about his next steps and ultimately find a place to work after graduation.
"Jeff was awesome," Noah said. "He not only helped me re-write my resume and update my LinkedIn profile, but also challenged me to think about my goals for after graduation and inspired me to achieve them."
One thing that became clear after their first meeting was that Noah desired to find a job back near his hometown in Southern California. Realizing that his personal network was limited in that area, Jeff turned to Trinity's alumni office for names of other alumni living in that area and worked with Noah to help him craft an email to reach out and ask if they might be willing to help.
And in true Trinity fashion, they did. Noah's introductory emails lead to other introductions including board members and staff with networks in that area. They in turn connected him to people they knew and trusted who had more direct work experience in business development, and specifically in the construction field. Noah began applying for jobs and eventually received a multiple offers from employers.
"Not every job Noah applied to was something he was seeking, but I still encouraged him to apply because you'll never know you don't like something until you explore it," Weidenaar said. "I encouraged him to keep his options open and have a backup plan, even if it wasn't his first choice."
Once the job offers came in, Noah had even more advice he was able to glean from Jeff. "Jeff took the time to help me navigate some offers that I had gotten, and was sounding board to help me process the options that would be best. He was incredibly reassuring, encouraged me not to rush a decision, helped me think about how to negotiate a salary if it wasn't what I looking for."
"I encouraged him to take some time over Christmas break to really pray about the decision," Jeff said. "Not only that, but he needed to remember that there can be more to a job offer than just a salary. Other benefits can factor in to the overall package so he needed to weigh the pros and cons to come to a conclusion."
In January, Noah started his new job at Arena Staffing in Temecula, CA. What originally started as a conversation around coffee lead to connections with Trinity alumni and staff who put him in touch with the company.
"I was blown away by how understanding everyone was, and how they rallied around me to help me succeed," said Noah.
As Jeff reflected on the he realized Noah wasn't the only one who was blessed by the process. "I realized having worked in the business world now for 25 years all I didn't know when I was seeking that first job. It was so encouraging to be able to give back and even more rewarding because Trinity facilitated it which was great. It's a tangible way to show Christ's love back to students."
Now that both of them have joined the ranks as Trinity alumni, they plan to keep in touch. And you can be sure that Noah will be one of the first in line to raise his hand and be a Business Fellow mentor in the near future.
If you would like to get more involved in opportunities like the Business Fellows program, be sure to sign up as a member of the TrollNation Network. You can also join the Trinity Alumni Group on LinkedIn to be made aware of future volunteer opportunities.