A Family's Legacy Will Impact Students for Generations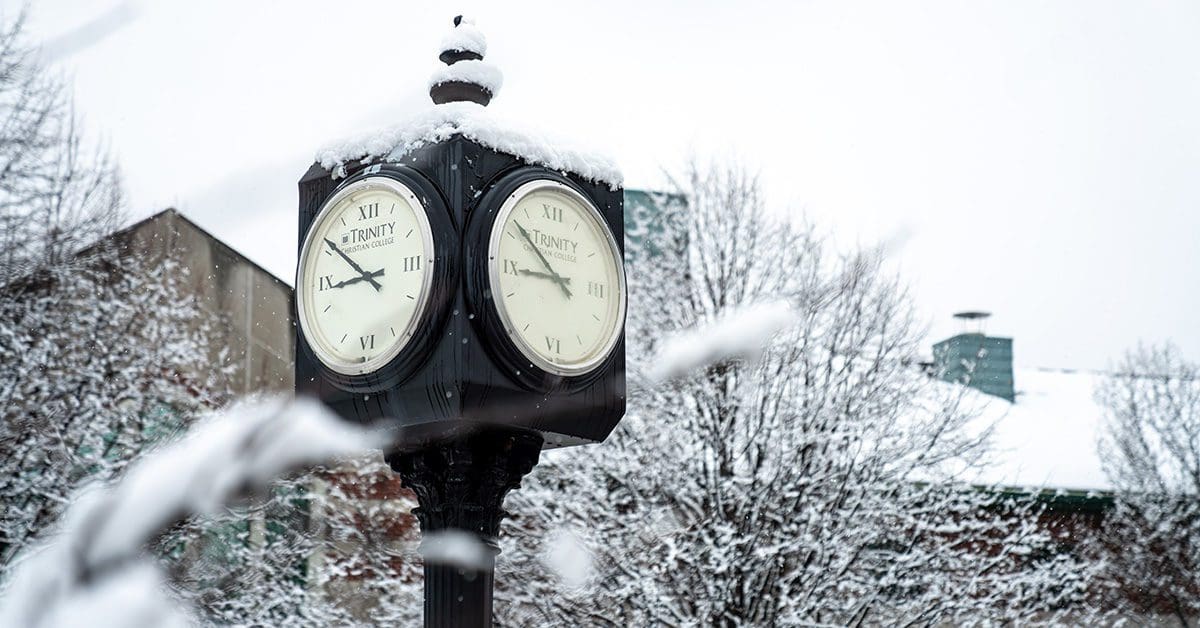 -Christy Wolf '10 and Jeremy Klyn '02
One incredible way for Trinity alumni to express their gratitude toward the College is through a financial partnership supporting student scholarships. Not only does this help ease the financial burden of college tuition, but it's also a way to recognize student accomplishments and achievements tangibly. Thanks to the generosity of a multi-generational Trinity family, the efforts of Trinity's Alumni Board, and the greater alumni community, over $200,000 was raised through a matching opportunity to support future legacy students, growing the Alumni Scholarship Fund (ASF) endowment to more than six times its current amount.
For over 20 years, the ASF has supported children of alumni who study at Trinity, drawing from an established endowment and annual fundraising efforts. Since its inception, the fund has helped 80 students (and counting) and has distributed over $260,000 in scholarship funds. "It's humbling to be able to award multiple scholarships to incoming students whose parent(s) attended Trinity," said Jeremy Klyn '02, Senior Director of Alumni and Family Engagement. "With 70% of all Trinity alumni having graduated in the year 2000 or later, we know that there are only more legacy children who will be of college age soon. We are already aware of over one thousand children who have signed up to be part of our Legacy Program – a 20% growth since 2019. There is a wave of alumni children who are approaching college age, and we want to help them as much as we can."
While this tremendous growth provides excellent opportunities for many families, it also has restrictions. Awarding a scholarship from the ASF to every child of an alumnus isn't possible. Only 13% of students who applied for the scholarship in the last three years received the award. Crystal Allen '11 currently serves as President of Trinity's Alumni Board. "It's challenging not being able to help all of our alumni and award scholarships to every student who applies. That was a huge motivator for why this scholarship campaign needed to take place," she shared.
In May of 2022, Trinity's Alumni Board learned of an incredible matching opportunity – thanks to an estate gift from John and Bernice Hoekstra. Three of their children graduated from Trinity, including their late daughter, Jean, who was a member of Trinity's first four-year graduating class in 1971. In 2006, their granddaughter, Sandra, also graduated from Trinity as one of the top students in the business program, receiving the departmental award at graduation.
As executors of the estate, Fred '80 and Barb '81 Hoekstra approached Trinity about doing a matching campaign to benefit the college. "Dad was good friends with Mr. Marty Ozinga, as well as Dr. George DeJong, both founders of Trinity, whose feet were on the shovels," Fred shared. "During my time working at Barnabas Foundation, it was great to hear firsthand about Mr. Ozinga's dream of a chapel on campus and Dr. DeJong's heart for stewardship and Christian education."
A few months later, Trinity's Alumni Board began raising awareness of the campaign, introducing the opportunity during Homecoming, and encouraging year-end gifts. By God's grace, the match was fully met by 125 donors who gave over $100,000 – a generous addition to the ASF!
Klyn shared, "When I moved into this role in 2019, one of the first conversations I had was with (then) Board President Christian Perry '16. He told me he had a vision to raise $100,000 for the ASF, so when this opportunity presented itself, I knew that the Alumni Board and the Alumni Office had to act on it. What an incredible story to share with alumni for years to come." Ben Borst '13 serves as Vice President for the Alumni Board and added, "As an Alumni Board, we wanted to do something that would long outlast our time on the board and also impact so many of our fellow Trinity alumni. What a blessing from God to see these gifts come in."
Current scholarship recipients like Alex Hofman '24, daughter of Craig and Linnea Hofman '97, remind us of the impact made while studying at Trinity. She shared, "The community on campus has been so amazing since the day I arrived. While it can be cliché to say that, it is just true. Every new freshman gets nervous thinking about meeting people, but it just happened. That was so comforting as a new student. What's even more amazing was how natural it all felt. It was as if we had always known each other for years even though we had just met."
As Trinity moves forward with a transformed tuition structure – reducing the annual tuition cost to $19,800 beginning in the fall of 2023 – these gifts will have an even greater impact on students to provide access to higher education and help more students graduate debt-free.
"The timing of this opportunity to help future students couldn't be better," said Klyn. "We are so grateful to the Hoekstra family and the legacy that John and Bernice have left." While the campaign has closed, the Alumni Board will continue raising awareness and funds for the scholarship yearly. Stay tuned for more information about how you can partner with other alumni to support this fund.
If you would like to donate toward the Alumni Scholarship Fund, visit Trinity's website for more information. If you would like to get more involved or nominate someone as a member of the Alumni Board, please use this form online.
---