Alumni Board Engages in Conversations on Equity and Inclusion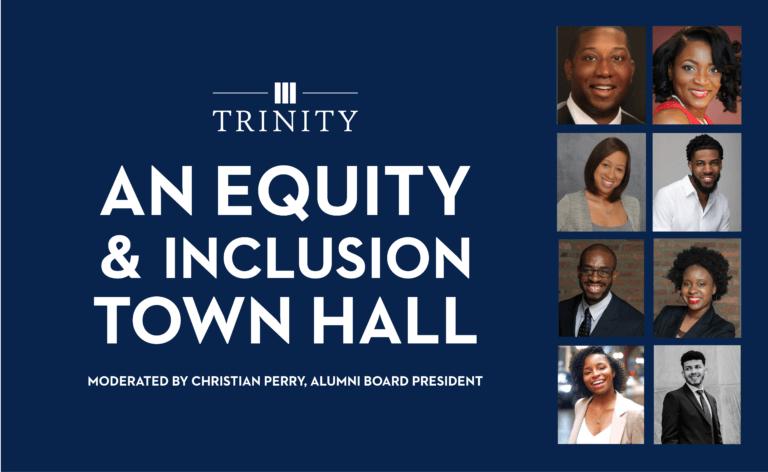 As a community, Trinity Christian College believes racism is an evil that remains a real problem in our world. During 2020, the College has been taking on the work of understanding how we personally and corporately have not lived fully into our own commitments to unity and diversity and addressing those issues. 
Along with other actions throughout Trinity, the Alumni Board has taken several steps as part of our commitment to live up to our beliefs that all people are created equally in the image of God. According to Director of Alumni and Family Engagement Jeremy Klyn '02, those steps include recently hosting an equity and inclusion town hall, which was streamed live on Facebook. 
"We felt it was important to invite our alumni of color to speak to their experiences," said Klyn.  
The town hall was moderated by Alumni Board President Christian Perry '16. As he told viewers and panelists in his introductory remarks, "We're going to have a conversation about race, identity, and belonging at our beloved Trinity Christian College." 
Participants in the panel included: 
— Dymica Brown '94
— Myron Graham '04
— Marlin Exton '07
— Crystal Allen '11
— Justin James '12
— Dominique McGee '14
— Noel Huddleston '17
— Josiah Rosario '18 
Over the course of 90 minutes, they discussed a range of questions and issues, including:  
What was your experience and how did you find yourself becoming a leader at Trinity around issues pertaining to race and identify? 
What does it mean to find belonging, and what does it mean to belong at Trinity? 
What concrete things can Trinity do to improve equity and inclusion?  
As Perry said at the end of the town hall, "I believe deep down in my bones that this place is going to be the model, the example for a country that so direly needs an example of what it means to be in community together."
For those who missed the town hall or would like to revisit it, a recording is available on Facebook, and as a two-part "Troll Talks" podcast series.  
Said Klyn, "This event isn't meant to be a one-time statement or referendum. It's a beginning of dialogue and engaging with alumni on something that we've never been able to do yet as a Board and as an Alumni Office. I'm excited to see what other opportunities arise for the College out of this conversation, and excited to think about other topics and conversations we can continue to have as alumni within the Trinity community. 
"The Alumni Board exists to be a representation of the Trinity alumni association and meets regularly to engage with Trinity's campus to be able to help propel the College's mission and also provide needed feedback to the College and administration from our alumni," said Klyn. 
Klyn encourages all of Trinity's alumni to stay in touch and stay involved. If you don't receive communications from Trinity's Alumni Office, you can update your information here. You can also join Trinity's TrollNation Network and take part in our comprehensive effort to mobilize volunteers from the Trinity family to advance the mission, vision and reach of the College. 
---