Trinity's Most Popular Stories in 2021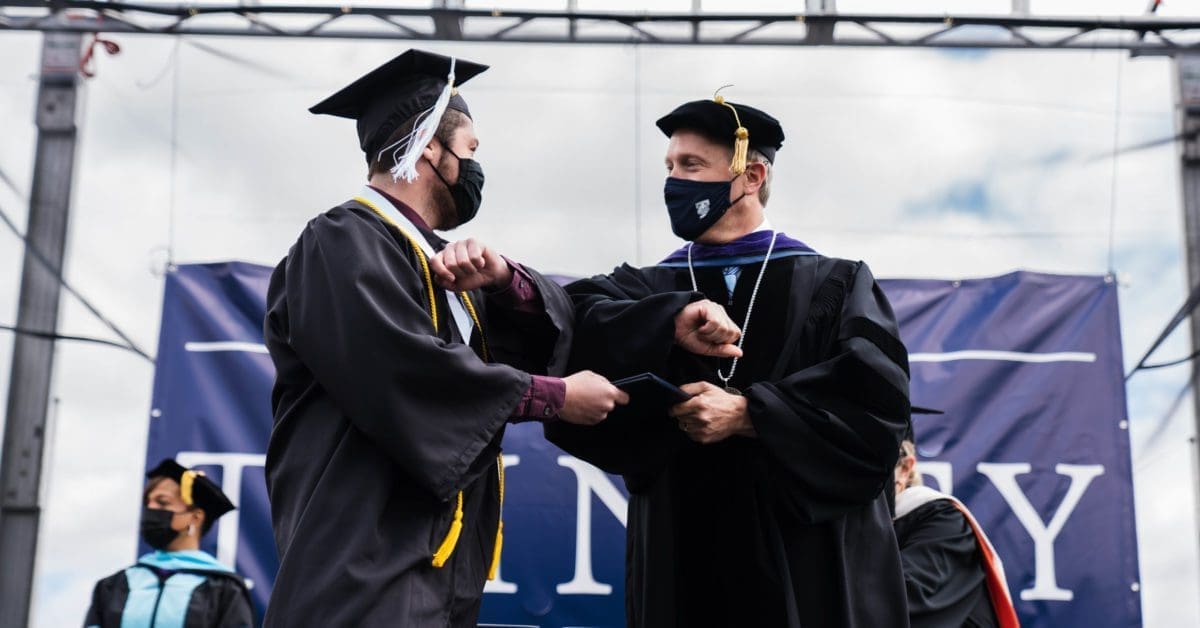 The Trinity community was certainly busy in 2021, and we were pleased to be able to share many of those stories with you on Trinity's website. Among the many stories that we shared, which ones did you find most interesting last year?  
 
The range of most-read articles span a list with as much variety as our students, professors, staff and friends. Readers wanted to know how Trinity students persevered during COVID to graduate and make the Dean's List. Many of you also read about how the College and multiple departments were honored with national rankings. 
You were also eager to learn about our professors, from Dr. Brodnax being named Professor of the Year, to Drs. Meyer and Snoeyink earning emeriti status.  
You followed along the journey to the new and improved Shack, which was born from the spirit of service that is a highlight of Trinity students. And you also celebrated the 300th win in the remarkable career of Coach Lenarz. 
Here's another look at those stories, along with others from 2021.  
Celebrating Student Successes  
Our students are dedicated to excelling in the classroom and finding their vocations, and many of you read about the commencement ceremonies for our 2021 and 2020 graduates, as well as those who made the Dean's List.  
Every year, the Student Life Department honors students who demonstrate their commitment to leadership, the College and to each other, and many of you were eager to find out who ranked among those award winners.  
You were also curious about Trinity's newest Founders' Scholars Tyren Brown and Kara Van Dyke.  
National Rankings Highlight Academic Strength 
Trinity appeared on many "best" lists in 2021, and you were interested in learning what makes us a Top 20 Ranked Regional College by U.S. News, why our Education Department is among the top 10 nationwide, and the many accolades our Nursing Department has been awarded.  
Recognizing Our Amazing Professors 
Our dedicated, experienced faculty leave a lasting impact, as proven by the popularity of articles about Professor of the Year David Brodnax and the retirements of long-time professors Dr. Joy Meyer and Dr. Rick Snoeyink.  
Saying Goodbye to Martin Ozinga III 
During his life, Martin "Marty" Ozinga III showed exceptional dedication to Trinity, and his passing was mourned by many.  
The Shack, New and Improved 
The Shack has been a hangout spot for generations of Trolls. And thanks to recent improvements by a group of dedicated students, it will be continue to a great space for many more! 
Introducing Campus Pastor Ben Snoek 
While 2021 marked the retirement of Pastor Bill VanGroningen, many of you couldn't wait to "meet" new Interim Campus Pastor Ben Snoek! 
Coach Lenarz, Mr. 300! 
Head Women's Soccer Coach Josh Lenarz '98 secured his 300th victory and his place as one of the winningest active coaches in the NAIA with the Trolls' victory of Judson University on Oct. 6.  
You can visit trnty.edu/news to read all these articles, and many more! 
---